JOHN McDONELL


[b.circa 1758 - d.1809]

History reviews the successes and failures of individuals on this planet.

<!***********************************insert narrative below here *******************************************>

The members of Upper Canada's first elected assembly who gathered at Newark in Navy Hall on that historic September day in 1792 were unanimous in their choice of a Speaker for the House of Assembly. They chose John McDonell, the member for Glengarry, the eastern-most county of Upper Canada. McDonell retained this important position until dissolution of the Assembly in 1796. With the honour came an honorarium, a tidy allowance of 200 pounds Halifax currency.

Born in Scotland, McDonell arrived in America with the first of two major Highlander migrations that settled in the Mohawk Valley in 1773. Later while stationed at Fort George, he met and married Helen Yates. The couple had one son and two daughters. When the American Revolution broke out, McDonell, a fervent Loyalist, served in the Royal Highland Emigrant Regiment at Quebec and Montreal where he was "wounded in the arm" while arresting a notorious American sympathizer.

McDonell joined Butler's Rangers as a captain, and participated in the infamous attack at Cherry Valley, for which Butler praised McDonell's "activity and spirit that on every occasion does him much honour." John then joined forces with Joseph Brant, and together they burned their way through the Mohawk Valley, contributing, according to one British report, "greatly to our success."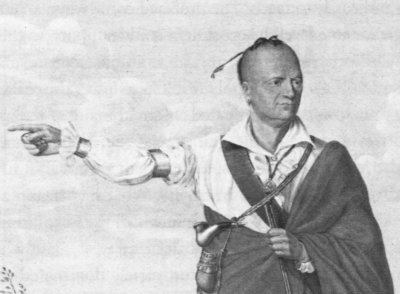 Joseph Brant

our success." On yet another raid, McDonell became so ill from fever, ague and "rheumatism in my neck," that he had to travel tied to his horse.
McDonell served as paymaster at Fort Niagara and became a close friend of John Butler, frequently accompanying him to Montreal where they did "very little else but feasting and dancing" and for diversion toured the mountain "every other day on snowshoes." Butler reported to Governor Haldimand that "Captain McDonell is the most capable officer in the Corps and best liked by the Indians." Joseph Brant turned to him often for important advice.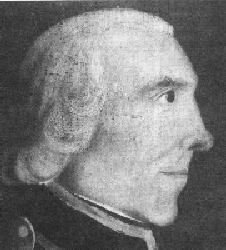 John Butler

Leading a combined force of Rangers and Native braves, McDonell attempted unsuccessfully to bring members of the Oneida tribe to Niagara. During the raid, critical supplies became so scarce they were forced to "kill some of their horses and dogs for food."
When Butler's Rangers were disbanded, McDonell, although offered land in Niagara, chose instead to live among the Highlanders along the St. Lawrence River where he retired on half pay to an impressive residence he built near Cornwall. Lord Selkirk, who established a large settlement of Scottish immigrants on the Red River in what is today Manitoba, criticized McDonell's vanity in naming his home `Glengarry House' because, said Selkirk, McDonell was far from being chieftain of the clan in Canada. Nevertheless, McDonell's leadership among the Gaelic-speaking Highlanders was unchallenged.
McDonell's military service enhanced his stature as a local notable and assured him provincial prominence. He signed a petition as a `Western Loyalist' requesting the establishment of district schools which he felt would be extremely useful politically and morally,
In His Own Words
"to counteract the effects of improper bias among the rising generation."
McDonell's various offices included Justice of the Peace, the councillor who inquired into the `loyalty and character' of land applicants and a magistrate of the Court of Common Pleas. His election to the Legislature for Glengarry was without opposition which was an indication of the family's local distinction. Dealing with bills from the Executive Council and from private members' bills, the hard-working members of the House of Assembly got through a great deal of basic legislation. This included passing laws on legal and social matters, legislation that replaced the ancient French laws of Canada with British laws and established trial by jury. McDonell voted against a bill allowing persons immigrating to the province to bring their slaves.
Fiscally, the Assembly was somewhat irresponsible. Its members made decisions which revealled an eagerness to spend taxes while at the same time being most reluctant to raise them. In an effort to solve the financial problems in which this conundrum placed them, Simcoe appointed McDonell one of three Upper Canadian Commissioners charged with negotiating an agreement with commissioners from Lower Canada on the sharing of rum and customs revenues collected at the Port of Quebec. These negotiations resulted in Upper Canada receiving one-eighth of the rum revenues. The Commissioners jokingly reported that French Canadians received more revenues because they drank more liquor, having "a cup of rum and a crust of bread" for breakfast whereas "Upper Canadians took tea."

Lord Dorchester recommended McDonell for appointment to the prestigious Executive Council, however, its maximum membership of five had already been filled. Simcoe appointed McDonell Lieutenant of Glengarry County on the 2nd of November, 1792. In spite of Simcoe's wish to equate this office with aristocracy, its functions were confined largely to the appointment of magistrates and "to the enlisting and assembling of the militia."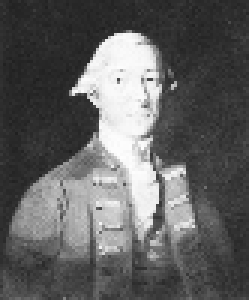 Lord Dorchester

Preoccupied as he was with the colony's defences, Simcoe recognized McDonell as an untapped source of military might because of his influence with the Natives and his high standing among Highlanders. He selected McDonell "as the most proper person within this province because of distinguished gallantry" for appointment with the rank of lieutenant-colonel to command the Upper Canadian battalion.
The force was stationed at Fort George until its disbandment in 1802. Simcoe also supported as both "politick and just" McDonell's request for `Highland Broadswords' - the traditional weapon of the Highlander - to arm the Glengarry militia.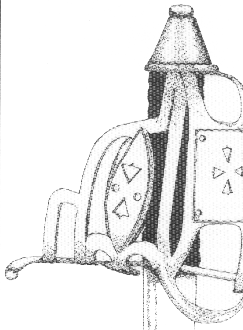 Highland Military Broadsword Hilt


John McDonell was re-elected to the second parliament at which his attendance initially was sporadic because of illness and his garrison duties at Fort George. When he was replaced as Speaker he was by unanimous consent of the Assembly assigned a special seat to the immediate right of the Speaker as a mark of the esteem in which he was held. Although his attendance improved, his prominence decreased as his participation in the work of the Assembly declined. Failing health and declining wealth caused by too generous loans to relatives forced his retirement. On the grounds of financial need he received the relatively lowly appointment of paymaster for the Royal Veteran Battalion stationed at Quebec. The harsh climate took its toll and shortly after contracting a severe cold he died in Quebec City on the 21st of November, 1809.

A contemporary biographer has left us this portrait of John McDonell.
"He was rather below the middle size, of a fair complexion and in his youth uncommonly strong and active. For some time past his appearance was totally altered, those who had not seen him for many years could not recognize the swift and intrepid Captain of the Rangers."

<!***********************************insert narrative above here********************************************>

Copyright &copy 2013 Website Administrator