THE HONORABLE ROBERT HAMILTON

History is the study of the economic growth of people.

<!***********************************insert narrative below here *******************************************>

Few men in Upper Canada had the affluence of Robert Hamilton, Queenston's most prominent and illustrious citizen. Judge, politician and entrepreneur par excellence, this "scotch pedlar" lived the lifestyle of a gentleman, entertaining the rich and the famous at his magnificent home at the Landing overlooking the Niagara River. John Graves Simcoe and Mrs. Simcoe were frequent visitors, pausing at Hamilton's for breakfast on their first excited trip to see the Falls. The Duke of Kent took tea there. The French Duc de Rochefoucauld was most impressed by Hamilton's fine home and by his farm, his distillery and his tanyard. Even the Hero of Upper Canada took advantage of Hamilton's hospitality. When Sir Isaac Brock's eternal rest was disturbed by the dastardly destruction of his first monument, Brock's bones were re-interred in the Hamilton family cemetery where they lay for thirteen years.

Hamilton's handsome, stone home was constructed in 1791 on the edge of the escarpment overlooking the Niagara River. Of Georgian design the impressive building was a two-storey structure with a greystone facade, side wings and covered galleries that ran the length of the house. "Each was a delightful covered walk both above and below in all weather" wrote an envious Mrs. Simcoe. The back rooms provided a grand view of the river and the tree-lined American shore. The imposing mansion was situated in a forest clearing where it sat somewhat incongruously among the modest, even mean pioneer dwellings of the neighbours. During the War of 1812 an occupying force of Americans set up their big guns close to the house inviting as a result heavy bombardment from British cannons. The ensuing artillery duel destroyed the house and everything around it. Hamilton was quick to claim compensation explaining in his petition that his home had been "burned by accident by our troops." He received two thousand pounds.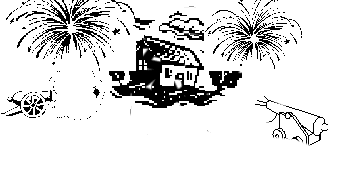 Born in Bolton, Scotland, in 1753 Hamilton is thought to have come to Canada about 1770. He had eight sons and one daughter from two marriages. Robert was ambitious and quick to learn and after serving as clerk apprentice for London merchants in "merchandise and peltries," he built up a trading station of his own on Carleton Island in 1779. In 1784 he moved to Niagara where in partnership with Richard Cartwright opened a trading station. With the British army garrison at Fort Niagara the two men established a solid business based on trust and dependability.

Hamilton was given the contract to open the portage on the west bank of the Niagara River and to build storehouses at Queenston and Chippewa. His `syndicate' carried on a lucrative trade in military supplies, furs, flour, salt, beef, peas, pork and whiskey. Hamilton did not sell his goods cheaply. The executors of his estate estimated that the profit on his stock was in the area of 40 per cent. He offered his clients credit and when they used it to excess and were unable to repay their bills Hamilton obligingly accepted a mortgage on their property. If they defaulted they lost their land. Largely for this reason he gradually acquired extensive property holdings and at his death he was said to own 100,000 acres of land.

Merchants like Hamilton employed bill collectors or `outriders' who travelled throughout the district, dunning debtors for overdue accounts. One outrider serviced 443 accounts and reported of that number, 18 debtors had inexplicably disappeared and seven more could not afford to pay their debts. They were in good company for when Hamilton died 1281 people owed him money.

The Duc said of Hamilton, "This merchant bears an excellent character. He is the most valuable kind of man for a new country." Lord Dorchester agreed and recommended Hamilton as a "person most fittest" to serve in the Legislative Council. He was appointed also to the land board and was made a judge of the Court of Common Pleas. His ultimate honour was selection by Simcoe as Lieutenant of Lincoln county. This was a most prestigious position and one which endowed him with influence and power.

While Simcoe recognized Hamilton's worth the two men shared what could be characterized as a love-hate relationship. "He is," said Simcoe, "a man of very good understanding and great personal liberality a most respectable person in this province." On another occasion Simcoe angrily labelled Hamilton "an avowed republican."

Simcoe compared him to,

In His Own Words
"a violent, low, philosophic, cunning New Englander. Merchants are justly obnoxious to the settlers of this province and Hamilton is particularly so because of his avarice, ambition and vanity."

The reason for Simcoe's ambivalent attitude towards Hamilton was due largely to Hamilton's frustrating failure to support all of the proposals put forward by the Governor. Simcoe found it loathsome to lose and he lashed out at independent thinkers when they refused to go along with his plans. While Hamilton's opposition never ceased to excite Simcoe's keen displeasure, the merchant's petitions were always warmly received by the Governor and Simcoe never stopped consulting Hamilton on important provincial matters.

As for Hamilton he calmly declared/p> In His Own Words
"My only motives are the good of my native country. And though I am a man of peace when the business of fighting becomes pro aris et focis (for altars and firesides), I trust my services will not be found backward."

Robert Hamilton died after a prolonged illness in 1809 at the age of 56. An observer commented that his funeral, which was attended by a great crowd of people, was the occasion of real sorrow. His enormous estate, which was said to include one hundred thousand acres of land in Upper Canada, was the subject of frequent legal disputes and it disappeared quickly after his death.

<!***********************************insert narrative above here********************************************>

Copyright &copy 2013 Website Administrator