ELIZABETH POSTHUMA SIMCOE, PART 1

History is subjective and individual, conditioned by the vision of the historian.

<!***********************************insert narrative below here *******************************************>

"Everybody is sick of York. But no matter the Lady likes the place and therefore everyone else must." The 'Lady' referred to by Hannah Jarvis with a hint of hostility was none other than the indefatigable Elizabeth Posthuma Simcoe, wife of Upper Canada's first Lieutenant-Governor, John Graves Simcoe.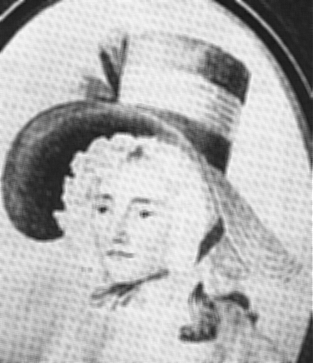 Mrs. Elizabeth Simcoe in Welsh Dress

With pencil and paint brush in hand Elizabeth faithfully chronicled life and times in the wilderness that was once Ontario. She is hailed by history as a frontier gentlewoman of grace, charm and spirit in whose paintings and diary early Ontario is documented.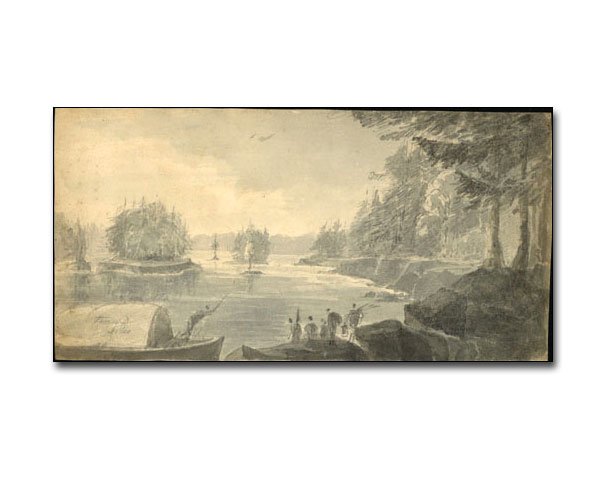 The Simcoes stopped at Kingston on the way to Upper Canada where Elizabeth sketched what she saw as she passed what today we call the 1000 Islands.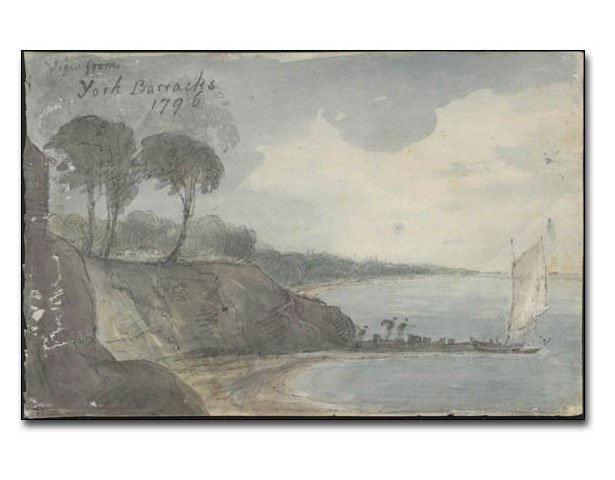 York Barracks 1790 looking east from Fort York towards what today is Toronto.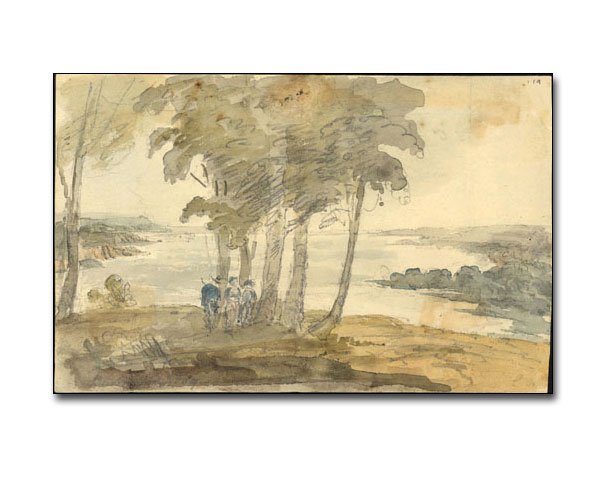 During a trip to Niagara in 1796 Elizabeth sketched Burlington Bay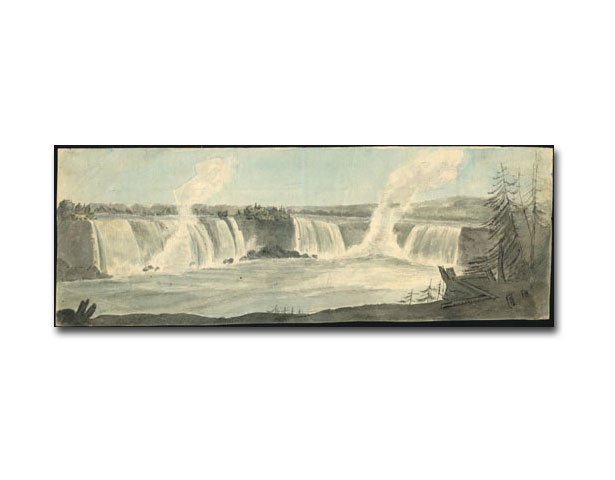 Elizabeth's sketch of Niagara Falls


Elizabeth Posthuma Gwillim Simcoe was born in Aldwincle, Northhampton, on September 22, 1762. Her melancholy middle name memorializes her father's death seven months before she was born and her mother's death twenty-four hours after. She was raised by her Aunt Margaret, her mother's younger sister, who was married to Admiral Samuel Graves, godfather of John Graves Simcoe. Elizabeth was taught French and German by a governess, as well as music and art at which she excelled. She learned to embroider, to sketch and to use watercolors. She loved dancing and the out-of-doors and took great interest and delight in nature, plant life being a particular source of fascination.

The only child of Elizabeth Spinkes and Lieutenant-Colonel Thomas Gwillim, aide-de-camp to Wolfe at the Plains of Abraham. Elizabeth Posthuma was attractive and diminutive at five feet tall. A miniature of her depicts sharp, dark eyes, a tiny face and a strong, determined chin. She was an outgoing individual with a refined, artistic temperament and a gentle albeit strong-minded manner. She inherited a sizable sum from each of her parents and was an heiress of great wealth at age 20 when she met and married tall, handsome John Graves Simcoe, a distant relative who was ten years her senior.

The Duke de la Rochefoucauld visited the Simcoe home and described Mrs. Simcoe as a woman who was bashful and spoke little but who

In His Own Words
"Is a woman of sense, handsome, and amiable and fulfils all the duties of mother and wife with the most scrupulous exactness. The performance of the latter she carries so far as to act the part of a private secretary to her husband. Her talents for drawing, the practice of which she confines to maps and plans, enables her to be extremely useful to the governor." Somehow he discovered her age to be 40.

She had a slight speech impediment which was likely the reason for her reticence to speak in public. It may also have been motivated in part by her belief that a woman should be seen but not heard. She felt there was nothing

In Her Own Words
"as bad as a woman talking politics."

The Simcoes were married in 1782 and had eleven children - eight daughters and three sons. Elizabeth to use her own words was "often in that way," bearing a daughter almost every year until 1791 when with "girls enough," the longed-for son and heir, Francis Gwillim, was born. He died in 1812 at the age of 21 at the siege of Badajoz, Spain where he was "decently interred" right on the battlefield.

The two youngest children, Francis and Sophia, accompanied their parents to Canada. The seventh and last daughter, Katherine, was born in Upper Canada at Newark on the 16th of January, 1793. She died 15 months later on Easter Monday 21st of April, 1794 and was buried in the bush somewhere "among the trees and mosquitoes." Francis was the focus of much attention throughout their time in Canada and was frequently mentioned in Elizabeth's diary. Reference was rarely made to Sophia and the existence of Katherine is not mentioned at all.

In 1784 Elizabeth bought a 5000 acre estate at Honiton in Devon where the Simcoes built Wolford Lodge on a slope that reached downwards to the sea. It remained the family seat until 1923. Elizabeth, who lived until the age of 87, could be tough as well as tender. She had to be rugged to survive the primitive conditions they encountered in Simcoe's posting in this primordial part of the Empire.

The Simcoes left Kingston for Newark in the summer of 1792 and within two days' sailing in a fair wind were thrilled to see from the deck of the Onondaga, "the spray of the Falls of Niagara rising like a cloud." It was produced as the Niagara River poured over the shelf of the escarpment in a roaring mass, then dashed thorough the great spillway of the narrow gorge created as the waterfall had retreated. Eizabeth was enthralled by the sight and could hardly wait to see and sketch the great Falls.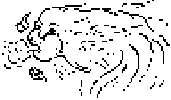 Simcoe had brought with him what he called his "canvas house," a large marquee that had been used in the Pacific by the famous Captain James Cook and purchased by Simcoe at a sale of Cook's effects in London. Because Navy Hall was not completed when they arrived Simcoe had the tent erected on a hillside overlooking the Niagara River at Niagara which he renamed Newark. Simcoe had a hut built for himself above the Niagara River at Queenston inside of which he hung a tapestry he had received from the Marquis of Buckingham.

The Simcoes acquired three pets: a grey and white cat and a hound dog they named Trojan. which adopted Mrs. Simcoe as his special mistress. It followed her about wherever she went and always slept faithfully by her bedside. Shortly after the Simcoes arrived at Newark they were joined by Jack Sharp, a dog Mrs.Simcoe described as a Newfoundland dog. It attached itself to the family and resided with them at Navy Hall from the time of their arrival. During Simcoe's trip to Detroit the big dog was troublesome in more ways than one. He had a tendency to attack the slow moving porcupines and suffered severely from quills in his nose and neck. They were difficult to remove and left him sick for some time. On another occasion his foaming-at-the-mouth sickness was thought be rabies and he was very nearly shot. Because of his size he was ungainly in the canoe and a constant cause for concern. Despite the fact that it was frequently the source of so much trouble the big, shaggy dog was a family favourite.

Another of the many excursions Simcoe took about the colony was to Lake Simcoe named in honour of Simcoe's father, John Simcoe. >Jack Sharp accompanied a party and on their return several of the soldiers and Jack Sharp became separated from the main party. After wondering in the woods for a number of days they ran out of food and desperate to survive it was thought they might have to eat Jack Sharp. Fortunately for the Newfie they soon sighted Lake Ontario from where they made their hungry way home.

Shortly after landing at Newark Simcoe wrote to his daughter, Charlotte, about their location.

In His Own Words
"My Dear Charlotte, Here I am and Mamma sitting in a very large bower fronting upon a fine River and as high above it as the sand cliff is above Shrubbery with Sophia sitting on the table and little Francis with his bald head laughing and eating blue berries."

Their large tent made a great impression on one guest, the American General Hull who was later to be ignominiously defeated by Brock at Detroit. The canvas house, Hull wrote,"is a room twenty-two feet by fifteen, with a floor, windows and doors and warmed with a stove. It is papered and painted and you would suppose you were in a common house. It is quite a curiosity." Another visitor at the Simcoes' was shocked at the primitive conditions in which he found them. "You have no conception of the misery in which they live, the canvas house being their only residence, one room in which they lie and see company, the other for the nurse and the squalling children." A third guest shared this view and wrote, "It is surprising how Mrs. Simcoe, who is a very delicate little woman can support the fatigue she does." Elizabeth, however,who had a great gift for enjoying the moment saw only the magnificent view that stretched before them and was little concerned with their accommodation.

<!***********************************insert narrative above here********************************************-->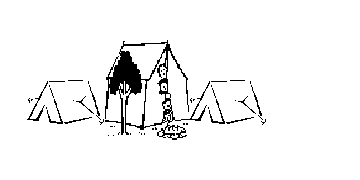 Weather was a trial. Elizabeth loved playing the card game whist but in the winter it was so cold that even wearing three fur tippets and gloves "I could hardly hold my cards in the evening." In spite of the numbing cold of winter and the searing summer heat with its merciless mosquitoes she rejoiced in "our bright Canadian sun."

<!***********************************insert narrative above here********************************************-->

Elizabeth loved dancing. Her diary reported on one occasion she danced three nights out of seven. The first winter the Niagara capital had fortnightly balls at one of which Elizabeth recorded "There were 14 couples a great display of gauze, feathers and velvet in the room lighted by wax candles." She revelled in the role she played and was thrilled by her position and its importance in the little wilderness world over which she and the Governor presided with as much pomp, paint and pageantry as was possible in this untamed corner of the globe.

Copyright &copy 2013 Website Administrator