ROB ROY

History is a rich gallery of personalities.

<!***********************************insert narrative below here *******************************************>

The explosion that shattered the sleepy stillness of the little village of Queenston on Good Friday 1840 accomplished its purpose. The noble column that for fourteen years had pierced the sky and commanded the countryside for miles around had within seconds become a shattered shaft and a wretched pile of rubble. The long sleep of Sir Isaac Brock had once again been broken.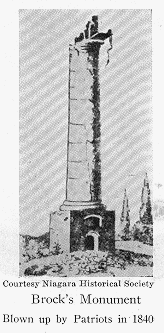 Brock's monument was a symbol of British power and prestige and a red flag to rebels like Benjamin Lett. Bent on wreaking revenge on officialdom Lett became known as the Rob Roy of Canada.[See Below *] He became the presumed perpetrator for every ugly incident that occurred in the Canadian colony including this one. Despite any real proof of Lett's guilt, it was widely believed that he had satisfied his thirst for vengeance by carrying out this dastardly deed. While Lett had no reason to hate Brock, he had loudly proclaimed his hatred of the establishment, charging that his brother had been shot and his sister assaulted by rampaging Orangemen for which he held the British responsible. Despite any factual proof, it was widely believed that Lett had satisfied his thirst for vengeance by carrying out this dastardly deed. "It has been clearly brought to light," Sir George Arthur falsely informed Governor Charles Thomson, "that the wicked attempt to destroy the Monument was the deed of Benjamin Lett."
Rob Roy had struck again. Like the hero of Sir Walter Scott's novel of the same name, Lett, patriot to some and rebel to more, prowled the frontier of the little province inflicting hate and havoc wherever he went. He seemed intent on single-handedly perpetuating the Rebellion of 1837.
Born in Kilkenny, Ireland in 1813, Lett with his parents, brothers and sisters immigrated first to Quebec then to Upper Canada, where in 1833 the family took up farming in Darlington Township on Lake Ontario. While not an active participant in William Lyon Mackenzie's abortive uprising at York, Lett was an avid supporter of the Little Rebel. Lett was forced to flee when armed Orangemen sought to arrest him for his rebel leanings and for refusing to join in terrorizing reform sympathizers.
Following Mackenzie's conviction in the United States for breaching the Neutrality Act, it was hoped that Mac might receive a pardon. In order not to jeopardize his chances, it was decided insurgents should lie low and to keep the peace along the border. Mackenzie himself restrained Lett from his guerrilla warfare, urging him to take off for Texas and not to "hover around the mouth of the pit until he fell in." When hopes faded for his pardon, Mackenzie changed his mind and told Lett "not to go to Texas on any account."
As long as border incidents continued, anyone who was even suspected of having reformist loyalties was open to vindictive treatment. Known Reformers were liable to be persecuted in any number of ways during the province's preoccupation with a witch hunt. The versified sentiments of the Cobourg Star's editorial reflected popular opinion.
Now that the rebellion's o'er
Let each true Briton sing
Long live the Queen in health and peace
And may each rebel swing.
Lett joined the Patriot forces on the Niagara frontier where he operated for a number of years as a guerrilla, "devising and committing all manner of mischief." His reputation as a fearless, vengeful patriot grew to romantic proportions. Customarily armed with pistols and a bowie knife, Lett was decribed by the
Cobourg Star as being five feet eleven inches tall, rather slim with sandy hair and whiskers. He was freckle-faced and light-skinned with a very red face and light blue eyes that were remarkably penetrating. His hands were large and muscular with long, round, very white fingers.
Like the rebellion itself, rebel raids along the border in 1838 and thereafter were marked by weak leadership, divided counsel and poor planning, which resulted in a string of farcical fiascoes. Operating largely on his own, Lett taunted and terrorized the countryside without really advancing in any way the cause of the patriots.
In November, 1838 Captain Edgeworth Ussher, an important participant in the destruction of the American vessel, Caroline, was murdered. The Caroline had been used to ferry supplies from the United States to Mackenzie and his band of rebels occupying Navy Island, "the theatre of Mackenzie's grotesque republic.", Lett was said to have landed a small party at Ussher's Creek from where he proceeded to Ussher's home and assassinated him, shooting him in cold blood when he opened his front door. The murder outraged the people of the province and although there was no proof that Lett had actually committed the crime, he was charged with it and a price was placed on his head.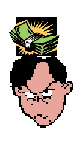 The reward for his capture was increased by 500 pounds by Lieutenant-Governor Sir George Arthur following the disclosure that Lett had also participated in an unsuccessful attempt to kidnap and kill a Cobourg resident who had also been involved in the burning of the Caroline. Following this failed assassination, which became known as the Cobourg Conspiracy, Lett fled across Lake Ontario to the United States where he remained for a time. Lett continued his depredations while in the States. In March 1841 he endeavored without success to burn the S.S. Minos. He returned to Upper Canada where he tried to destroy a lock on the Welland Canal.

Back in Buffalo he attempted to burn the steamship Great Britain for which he was captured, convicted of arson and sentenced to seven years hard labour. He escaped while on the way to prison and for the next year was pursued by the law on both sides of the border. In September, 1841 he was recaptured in Buffalo and taken to a prison in Auburn, New York where he was placed in solitary confinement. According to his brother, Thomas, Benjamin was subjected by his jailers to all manner of torture including near strangulation in stocks. Given the appalling conditions of prisons of the day, imprisonment alone was a severe punishment. These conditions combined with the harsh treatment he apparently received at the hands of his jailors severely weakened his physical condition. As a result of his broken health, Lett was pardoned in 1845 by the New York Governor Silas Wright.

After a period of recuperation, Lett joined his brothers and sisters on a farm near Northville, Illinois where he lived until 1858. That year while on a trading trip in Milwaukee he died mysteriously of strychnine poisoning. According to his brother Thomas, the terrible deed was the work of Tory agents. Benjamin was buried in Lett Cemetery in Northville. His tombstone inscription recorded Thomas's bitter grief and anger at his brother's ill-treatment by American authorities.

The records of American partnership
in the case of Benjamin Lett
are like a Christian hell without a Jesus Christ:
NO ESCAPE.

[*] Rob Roy - Glengyle - Birthplace of Rob Roy. Rob Roy was born at Glen Gyle, on the northern end of Loch Katrine. His father was an officer in the srvice of King James II. Rob Roy probably got his Jacobite leanings from his father. Rob Roy was stout shouldered andof medium stature. They say, he had arms as long as to tie his garters without bending.

Rob Roy, actually Robert MacGregor (b. 1671, d. December 28, 1734) was a Highland freebooter known as the Scottish Robin Hood. Nominally a cattle dealer, he became a cattle thief who sold his neighbors protection against other rustlers. When the protection business failed, Rob Roy was accused of fraud and declared an outlaw. After his principal creditor, James Graham, First Duke of Montrose, seized his lands, Rob Roy warred with the duke until 1722, when Rob Roy was forced to surrender. Later imprisoned, he was finally pardoned in 1727. His memory has been perpetuated and romanticized by Sir Walter Scott in the novel Rob Roy (1818).

<!***********************************insert narrative above here********************************************>

Copyright &copy 2013 Website Administrator