LAURA SECORD
HOMESPUN HEROINE

History is making other's experiences our own.

<!***********************************insert narrative below here *******************************************>

For bravery above and beyond the call of duty during the War of 1812, Laura Secord earned the honour and distinction of being named the Heroine of Beaver Dams. Canadians take great pride in the name and the fame of the courageous woman, who at great risk to life and limb, she walked a considerable distance through field, forest and glen to warn the British military of an impending American attack.

Laura Ingersoll was born in Massachusetts. Her father Thomas fought on the side of the rebels, but in 1795 the family immigrated to Upper Canada, where they obtained a township grant. Thomas's farm became the site of the town of Ingersoll, Ontario. Laura and her family were 'Late Loyalists,' American immigrants that Henry Clay and his War Hawks had bragged, "Would welcome release from British tyranny," and would readily raise their ranks when the Yanks invaded Canada.

In 1797 Laura married James Secord. The couple had six daughters and one son. James became a shopkeeper in Queenston where his business prospered. By 1812 the couple were looking forward to a quiet, comfortable life, but all that was to be changed by the coming conflict. At the outbreak of the War of 1812, James joined the First Lincoln Militia and with the rank of sergeant, he fought at Queenston Heights on October 13th, 1812. By the end of that day, Brock was dead, but the Americans had been defeated by British forces led by General Roger Hale Sheaffe.

James lay badly wounded. He had been shot through the shoulder and one knee was shattered by a second musket ball. Not knowing the fate of her husband, Laura set out to find him. She searched among the living, the dying and the dead on the bloody Queenston battlefield and finally found James close to death. She carried him home and throughout the winter, nursed him back to health.

<!***********************************insert narrative below here *******************************************>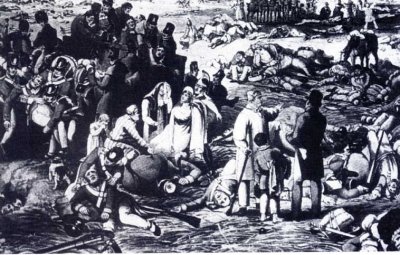 Laura searches the bloody battlefield for her fallen husband.


In the summer of 1813, American troops occupied parts of the peninsula and wherever they did during this period, they billeted their troops in the homes of Canadians. Three officers were billeted at the Secord home, where Laura laboured to serve them dinner daily. Initially, cautious and careful about any comments they made, the men soon relaxed and conversed too freely. Lieutenant James Fitzgibbon commanded some fifty "chosen men" of the 49th Regiment, who monitored enemy movements, harassing them when they could. The American officer, Colonel Charles Boerstler, boasted he'd finish off the pesky band of Fitzgibbon finally with a surprise attack on his headquarters at John De Cou's stone house located near Beaver Dams. As a result of their indiscretion, Laura overheard their plot and determined to warn Fitzgibbon.

<!***********************************insert narrative below here *******************************************>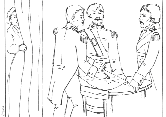 Laura Listening


Despite having seven children to care for, a wounded husband to nurse and a farm to run, Laura, who was 38 at the time, saw her duty and did it. She set out to find and warn her people of their peril, for it was well known that Fitzgibbon's Green Tigers [*] were all that kept the Americans from controlling the Niagara Peninsula.

Early on the morning of 22 June, 1813, Laura Ingersoll Secord set out through the woods and the wilds of early Niagara to warn British Lieutenant James Fitzgibbon of a planned American attack on him. Fitzgbbon was some 30 K (20 miles) away and in between were fields, forests, swamps, rattlesnakes, wildcats and the ever-present danger of American troops. She went from St. Davids to Shipman's Corners (St. Catharines) and from there, followed the general direction of Twelve Mile Creek. For eighteen hours she trekked through the trackless frontier bush over rocks, down ravines and through mosquito-infested forests in hot, humid weather.

<!***********************************insert narrative below here *******************************************>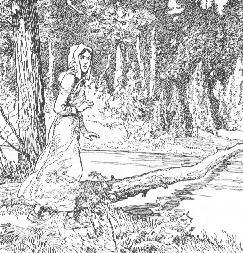 Laura on her way to Warn Fitzgibbon

Unexpectedly she stumbled upon an Indian encampment. Laura, who was frightened by their fierce appearance, shocked the Indians by hers She had no idea what to expect, but nervously stammered out word of the forthcoming American attack and requested to be taken to Colonel.Fitzgibbon.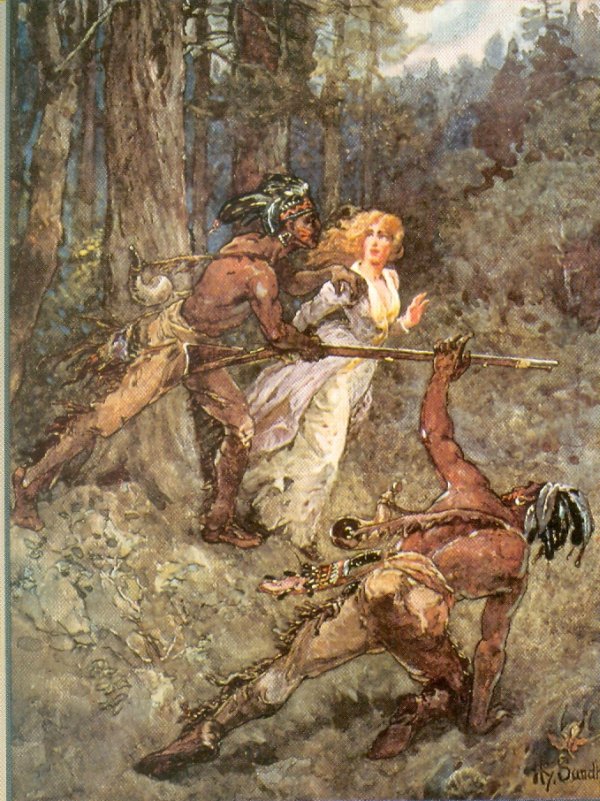 A golden girl issues from the forest.
Realizing immediately the importance of her message, the chief acted quickly and escorted her to Fitzgibbon's headquarters. Finally, the exhausted little Laura - she was only five feet four inches tall - in torn clothes and blistered, bloody feet, arrived at the home of Captain John Decou (also known as Decew) in present-day Thorold.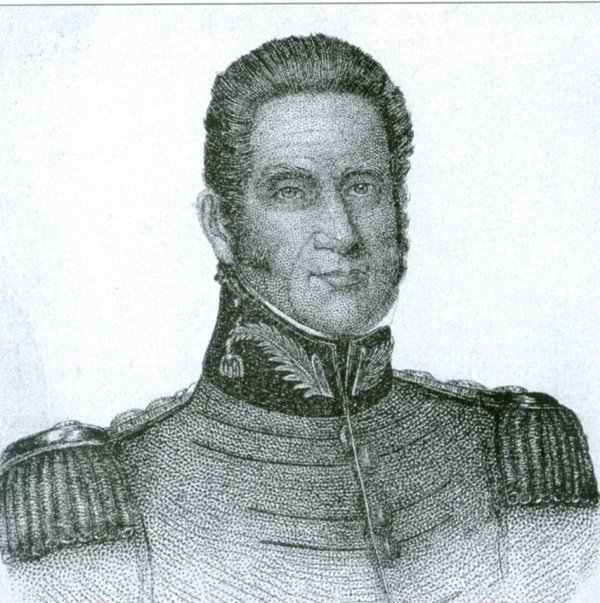 James Fitzgibbon

Breathlessly Laura gave her account to Lieutenant James Fitzgibbon.

<!***********************************insert narrative below here *******************************************>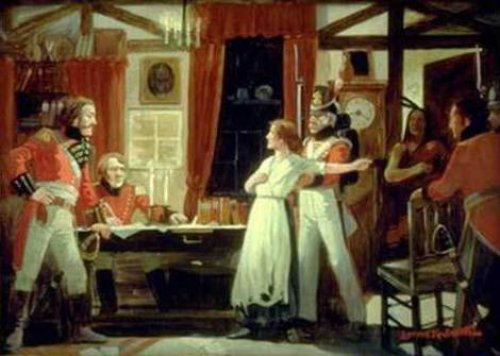 Laura Informs Fitzgibbon of trouble to come.


Laura then collapsed from exhaustion and fell into a deep sleep. When she awakened, she learned the American force of 600 soldiers had been surprised and defeated at what became known as the Battle of Beaver Dams. On 24 June 1813, 300 Kahnawake (Caughnawaga in contemporary accounts) and 100 Mohawks, set up ambushes in a thickly wooded area 1.5 miles (2.4 km) east of Beaver Dams. Fitzgibbon followed with 46 men of the 49th Regiment of Foot in reserve. The Americans capitulated and the loss of Boerstler's detachment demoralized the Americans hunkdered down at Fort George.

Despite the fact that Laura's warning had helped win the day, no mention was made in the official report of the part she had played in turning what might have been a disastrous defeat into an important victory.

In the post-war years, the Secords lived in poverty until in 1828, James was granted a small, war-service pension to compensate him for his crippled condition. Later he became collector of customs at Chippawa. When he died in 1841, Laura again was destitute and down but certainly not out. She immediately opened a private school in her little cottage on the bank of the Chippawa River for the children of Chippawa Natives. Times continued to be tough so she petitioned the government for aid, citing her service to the country.

Laura's appeal included the following introductory comments.

In Her Own Words
"I shall commence at the battle of Queenston where I was at the time cannon balls were flying about me in every direction. I left the place during the engagement. After the battle I returned to Queenston and then found my husband had been wounded, my house plundered and my property destroyed." James Fitzgibbon's certified Laura's contribution to the victory. In His Own Words
"Laura Secord informed me that the enemy intended to attempt by surprise to capture a detachment of the 49th Regiment then under my command she having obtained such knowledge from good authority as the event proved. She made the effort in weather excessively warm and I dreaded at the time she must suffer in health in consequence of fatigue and anxiety, she having been exposed to danger from the enemy through whose lines of communication she had to pass."

Fitzgibbon wrote several testimonials in her behalf. The one dated 1827 stated that, 'in consequence of this information" he placed Native warriors in a position to intercept the Americans." Thus he made it clear that Laura's warning had indeed made victory at Beaver Dams possible. Despite written support for her petitions from James Fitzgibbons on one of which he had scrawled, "In a moment of much hurry and from memory," her many appeals were regularly refused.

In 1860 the Prince of Wales, the future King Edward VII, visited Canada to dedicate the cornerstone of the first Parliament Buildings. He also visited Queenston where he laid the last stone and dedicated the cenotaph that marks the spot where Brock fell as he fought to dislodge American invaders. One hundred and twenty veterans of the the War of 1812, dressed in "a blue uniform with steel epauletters and glazed caps" saluted the Prince with their swords. One special 'veteran' of 1812 had signed the address to the Prince along with the men.

Although advanced in years, she was 85 in 1860, Laura Secord went to the office of the clerk of the peace at Niagara a month before the prince's arrival, where she insisted on signing the address over the objections of the clerk. She was supported by a local newspaper that heralded her heroics saying she had done more for her country than half the soldiers and militiamen engaged in it. She supplemented the address to the Prince with her own account and that of her husband in the patriotic service of their country. Prince Edward learned of Laura's twenty mile walk from the petition describing her war-time service. Of all who presented an address to the Prince, her name was the only woman's among the veterans of War of 1812. On his return to England, Prince Edward sent Laura 100 pounds in gold, the only financial reward she ever received for her service.

Laura's petition, the prince's reward and the press reports that followed, all engendered wide public acclaim for her heroic deed. She became celebrated in song and story, Legends grew up around the name of history's heroine. Her fame resulted in monuments being erected in her honour. in 1901 and the other at Queenston Heights in 1910. Her portrait hangs in the Parliament Buildings in Toronto. At a school named Laura Secord Elementary School in Queenston, a memorial hall has been established in her honour. Other monuments tell of the tale of Laura's illustrious place in the history of our country.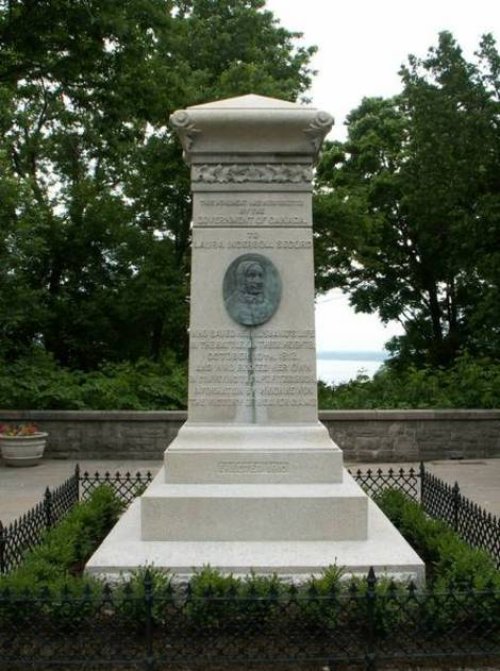 Laura Secord Monment at Queenston Heights

Laura Secord Monment Overlooking Queenston

This monument is on the site once occupied by the first column commemorating Sir Isaac Brock. Constructed of Vermont granite, the memorial is twelve feet in height and surmounted with a bust of bronze.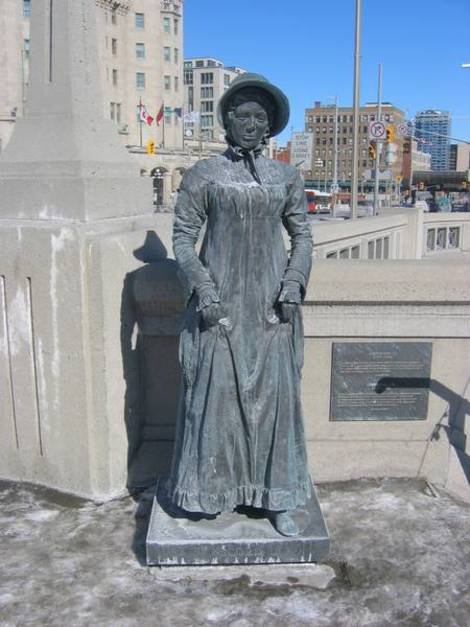 Statue of Laura Secord at the Valiants Memorial in Ottawa

Laura's many trials and tribulations apparently did not have any lasting effects on her health, for she died in 1868 at the age of 93. She is buried beside her husband in Drummond Hill Cemetery, Niagara Falls.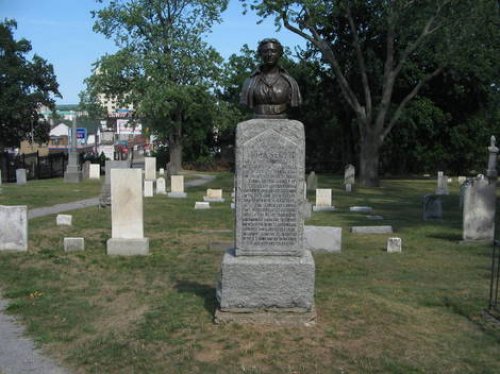 Laura Secord's Tombstone surmounted by her bust in 1901.
Drummond Hill Cemtetery, Niagara Falls

Laura's granddaughter has left us this description of her famous grandmother. "She was of fair complexion, with kind brown eyes, a sweet and loving smile hovering about her mouth." James Fitzgibbon remembered her as a person "of slender frame and delicate appearance," which hid the strong and persistent will of a fearless fighter, a pioneer woman of courage, endurance and resolution, whose determined sense of duty is honoured still in the annals of Canada.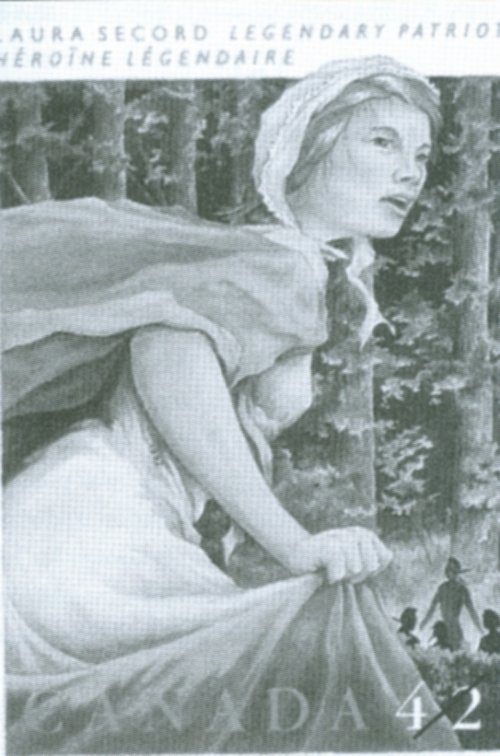 A Lovely Laura honoured by Canada Post


Laura Secord


Laura Secord Homestead


Many people are surprised to learn the white-panelled home built in 1803 was the starting point for a treacherous 30-kilometre journey that vaulted Laura Secord into the rank of Canadian heroine.

The upper-middle class home is where Secord raised her seven children with her husband, James. James was a merchant who sold the goods of local farmers in a small shop located on the property. Queenston was a lively hub at that time, with several inns and taverns, shops and distilleries. William Lyon MacKenzie, a publisher and agitator for political reform, lived just down the street. His home is today's Mackenzie Heritage Printery & Newspaper Museum. It was a place hard hit by the War of 1812. Cannon balls constantly rained down on the town. Secord's house was looted twice during the war. Every window in the house was shattered at one point.

With James, a British militiaman, injured during the war, the family was thrown into poverty when peace finally came. It wasn't until 1828 when James got a job as the registrar of the Niagara District Surrogate Court that better times arrived. In 1835 the family moved after James got a job as collector of customs in Chippawa.

Records are scarce of who owned the home after the Secords left. It's not until 1895 that the Shephard family took over the house, owning it until the 1960s. "They changed everything. I guess they didn't expect it would become a historic site." Everything is in its place today. Period furniture, dating back 200 to 300 years, graces every room.

In 2003 the proprietors of Laura Secord's home applied to the Historic Sites and Monuments Board of Canada to have Laura designated "a person of national historic significance" by Canadian Heritage. She was a 'shoo in' according to one of its officials. This agency designates people, places and events that have shaped our country. The designation will be marked by an official monument to be located at her home in Queenston. Laura is one of 579 people designated so far. For Laura this very special honour is long overdue. On May 25, 2006 a plaque recognizing the national historic significance of Laura Secord will be unveiled on the property, joining an Ontario Heritage Site plaque from 1976 and a St. Catharines Literary Women's Society stone from 1901.

<!***********************************insert narrative below here *******************************************>




Laura Secord's Queenston home is now a museum, which is open during the summer season. Restored and furnished with original furniture by the Laura Secord Candy Company in 1971, the home was given to The Niagara Parks Commission in 1998. It is located in the pleasant village of Queenston, just off the scenic Niagara Parkway. Qualified costumed staff provide guided tours of the historic house and provide information about the history of the area. Light refreshments, ice cream, Laura Secord chocolates and a selection of quality souvenirs available. Founded in 1913, Laura Secord Candy Company was purchased by Nestle Canada 1999. Laura Secord operates 174 retail shops, distributes its products in more than 2,000 third-party retail outlets in Canada, and has 1600 employees in stores across the country. Laura Secord had $78.5 million in revenues in fiscal 2002.

[*] The "Green 'uns" comprised a force of some fifty men known as "chosen men." The name originated with the 49th Regiment of Foot which earned a reputation in Europe as the "Green Tigers" because of their bravery on the battlefield during the Napoleonic Wars. The name resulted from the 'green' facing on their uniform and 'tiger' from the ferocity with which they fought. Fitzgibbon was given permission to form a special unit of 'chosen men' picked because of their discipline and fighting ability. They adapted an unorthodox approach comparable to guerilla-type fighting and subsequently under the name Green 'uns successfully fought and frequently frustrated Americans who crossed the border to plague and plunder Niagara residents. Fitz's men were so effective the American Lieutenant Colonel Boerstler set out from Laura Secord's home for Fitzgibbon's headquarters at DeCou's House to eliminate them as a fighting force. It was this threat that Laura Secord saved them from when she walked to warn Fitzgibbon whose native and miltiary forces defeated the Americans at Beaver Dams. /p>
Laura Secord's Trail by Scott Rosts
Niagara This Week 21 June 2012
<!***********************************insert narrative above here********************************************>
Copyright &copy 2013 Website Administrator